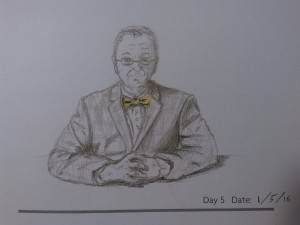 It's already 2016, and what better way to start off the year than with some resolutions! But before I get too far I'll explain why I decided to draw Richard Gartland today. My beautiful wife has just recently started at her new job working for H&R Block for this upcoming tax season! How exciting! They've made an excellent addition by hiring her and her sister for these seasonal positions.
But as I was saying before, new resolutions! I've never really been into making resolutions for each New Year, but with some motivational gifts given to my wife and I on Christmas, I figured now would be a better time than ever to start. One of the gifts that inspired a New Year's resolution for me in particular was a daily sketch journal given by one of my sisters-in-law, which is partly the reason as to why I drew my Gartland today. The other two gifts were given by my father-in-law's parents, which is a daily devotional by Dr. David Jeremiah and a notebook with a goal of listing a "Joy, Sorrow, and Hope" of every day of the year.
My Daily Sketch Journal
It's only five days into the year, so I only have five drawings at the moment, but I'm crazy excited about how such a simple book has motivated me to set aside at least some portion of each day to draw. I really struggle to find time for my artwork lately, so having a little more motivation is not only exciting, but greatly appreciated. I don't have each of my drawings posted yet, but I'm going to be setting up a page to showcase all of my daily drawings for 2016. I'm sure there will be a day or two where I'll inevitably be unable to complete a drawing, but I'll certainly be doing my best to do it whenever I can.
The Upward Call
The devotional given to us is titled "The Upward Call" by Dr. David Jeremiah, and was made specifically for 2016. Each devotional is only one page in length, and is labeled by the day you would be reading it (ex: January 5th is the fifth devotional). Even though all of our Christmas gifts this year are greatly appreciated, I'm sure that this gift will certainly be the most beneficial to the both of us.
Even though we're only five days in, I already know that this year is going to be great. I can't wait to see what each new day will bring!