I don't know about you guys, but this movie looks like it's going to be awesome. For those of you who may not have heard about it, Big Hero 6 is an animated movie involving futuristic technology, boy geniuses, super villains and super "Hiros" (The main protagonist is named Hiro), as well as his adorable and unique robot, Baymax.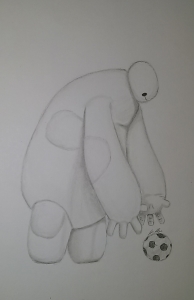 I would go more into the plot, but I'm not the best story teller. I have yet to see the movie, but I'm absolutely certain I'm going to love it. It also sounds like most critics agree, with an 8.4 rating by the Internet Movie Database and an 88% rating from the critics at Rotten Tomatoes, this movie is guaranteed to be a family favorite.
This Baymax vs. Soccer Ball drawing was actually inspired by a short film/trailer/thing released by Disney before the release of the movie. It's not only adorable, but it makes you wish you had one… like.. really.
I don't usually try putting my signature IN the drawing, but rather to the bottom right. But I've been watching quite a few drawing videos lately, and it seems like it's common to implement the artist's signature somewhere in the drawing. Since the soccer ball is where most people will tend to look, I figured I'd just throw it there.
This drawing was fairly simple, and didn't take too much of my time (I mean common, it's practically a balloon chasing a soccer ball). I think it took roughly 45 minutes to an hour. Sounds like a long time, but I wasn't very focused, and I haven't been feeling the greatest lately. My drawing of the Bumblebee: 2009 Chevy Camaro took MUCH longer. Probably closer to 3 hours cumulatively.
I also have the video of me drawing this up on YouTube. But Instead of redirecting you, I just embedded it into this page.
Well that's all for now. Hopefully I'll have another article on one of my drawings in the coming weeks, but I do have some new artwork up in the Dezigning Art Gallery if you want to check it out. Thanks for reading/watching! 😉