Thanks to my ever-increasingly phenomenal wife, I now have brand new charcoal pencils to play with, as well as a brand new friend whom I've taken the liberty of naming Anakin… Anakin the Manikin. I know, It's remarkable how clever and original I can be.
Charcoal Pencil Review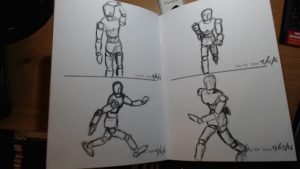 The charcoal pencils I've now been using are "Master's Touch Fine Art Studio woodless charcoal pencils", and thus far they've been great! When using basic pencils with various hardness such as H, 2B, 4B, etc.. I can rarely darken my artwork to my liking. That's not a problem when I'm using charcoal pencils
The Mess
Unfortunately, they're also messy. But as soon as I purchase some cheap hairspray to use on each finished piece, I should be fine. You can buy professional sprays to keep charcoal from smudging, but hairspray is a good substitute if you're not working on a commission or gift. I recommend at least the hairspray though, otherwise the charcoal drawings will definitely smudge all over (I speak from recent experience). Also, gently brushing off leftover charcoal dust is a bad idea. Just saying.
The Fun
Just because it's messy, doesn't mean I don't enjoy it, In fact, I LOVE my new charcoal pencils. Most of the reasoning behind my new love for charcoal is simply because it's new to me. I love trying new mediums, but it's also much easier to make drawings "pop" with charcoal, which has been a struggle for me. Having utensils that are generally darker than most other mediums is helpful in overcoming my "not dark enough" issues. They're also great for drawing on walls… (don't tell my wife).
These pencils can do impressive work, but I'd recommend looking around the internet for a few pointers on how to use charcoal pencils appropriately. There's a lot of work that goes into learning how to use them.
The Bottom Line
I think every artist should have them. They're a unique tool to advance your knowledge of the many diverse methods of creating new art. I'm still getting used to them, but even without experience, I already love them.
Anakin The Manikin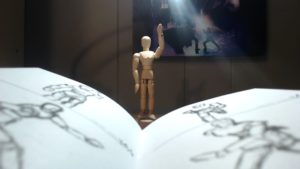 And now, a few words from my new friend Anakin.
"My fellow Amanikins: ask not what your artist can do for you–ask what you can do for your artist"

-Anakin Pinewalker
Haha, oh Anakin. It's good to see you like puns as much as I do.
Using A Mannequin For Sketches
Anakin the Manikin here has been helping me understand the human form a little better. He's not as good as an actual model would be, but unfortunately my desk isn't big enough to fit a life sized model. He's a very convenient size, and impeccable at staying still for prolonged periods of time. I've considered using him as a canvas for art and turning him into Darth Manikin, but for now I like him just as he is. His poses are limited, of course, but he's still useful for learning the many methods of transferring 3D objects onto a 2D piece of paper.
Using A Mannequin as a Toy
Don't do it
Using A Mannequin As A Canvas
I cannot know for sure yet, but I see much potential in young Pinewalker.
I'm sure you'll all be seeing much more of Anakin as he joins me to rule the galaxy.. of art.
Thank you for reading! If you liked it, then please share with your friends!