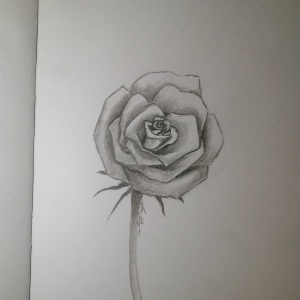 A lot of my work lately has been strictly abstract, and so I decided to change things up a little by drawing a nice little rose.
This one didn't take too long, since it really didn't take up a significant portion of the page, but regardless, I think it turned out really well. The only utensils used was a .o5 lead mechanical pencil, a fine tip mechanical eraser, and a kneaded eraser (which I think I only used once).
This drawing is actually the result of finding a how-to video by a YouTube channel artist known as J. Solorzano. He shows a step by step process on how to draw the rose, which I found very helpful. He does do the drawing digitally, which I'm not quite as find of (yet). But I'm hoping to get started in the area of digital artwork in the near future.
I also recorded myself drawing this one to show any viewers the process of how it came to be. Don't worry though, it's sped up so you don't have to sit through half an hour of watching me draw some lines. If you want to use it as a step by step guide on how to draw a rose, you can always pause it throughout the video until you catch up. To save you from leaving this page just to watch the video, I embedded it into this page. Hope you like it!