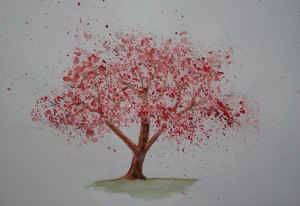 With all the artwork I've done recently, I realized that little-to-none of it had ANY color. Which is generally fine by me, but if I want to get any better as an artist, I think adding color to my gallery would be one of the best ways to do it.
This is my first watercolor painting since I've been in middle school (Those paintings are actually in the "High School Gallery"), and was created with some of the cheapest watercolor paint and paintbrushes possible, which made it even more difficult. The bristles of the cheap paintbrushes kept falling out onto my painting, so I ended up buying new ones before I started on the trunk of the tree. It took roughly 47 minutes to finish this painting, and I was surprised by how well it turned out.

Fine Art-Tips Watercolor Cherry Tree Tutorial
Since I haven't painted in years, I knew I wasn't going to just magically create a good painting on my first try, so I looked up a tutorial of how someone would go about painting a tree in watercolor. The top result of my search for "how to paint a cherry blossom tree" on YouTube was a fairly recent video by Fine Art-Tips. I've been subscribed to his channel for a while now, and his tutorials are excellent for artists that are inexperienced in certain mediums (such as myself). So I watched the video, followed his "art tips", and voila!
Details About This Piece
Time: 47 Minutes
Medium: Watercolor

Paper
: Basic printer paper 8 1/2 x 11
Difficulty
: Basic
Food Consumed During The Making
: A lot (as always)
Number of Warriors Battled to Defend From Capture
: 174
Fun to make?
: Always
I hope you enjoy the video!
Be sure to share this page with your friends if you enjoyed this article. Thank you!