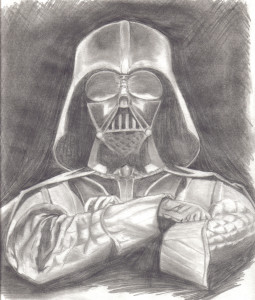 In case you haven't already figured it out, I'm somewhat of a Star Wars fan. This drawing was finished in May 2012 when I finally decided to put some time into doing a bit more than my daily doodle. Between school, work, maintaining any social life, and the very little sleep that any college student actually gets, this drawing took much longer than it should have.
The face on the drawing is a bit thin, which I hadn't actually noticed until it was finished, but there wasn't an easy fix now that all the shading had been done. The more I look at it, though, the more I'm ok with it. I'll just title the image "Vader on a Diet" or something.
This drawing is unusual for me, since the core of my work has always been more abstract, such as many of the images you'll see in the gallery. From time to time, though, i'll be inspired to draw something outside of my usual abstractions. Let me know what you think about my Darth Vader drawing in the comment section below, and be sure to contact me if you have any questions, or even just to have a good conversation.