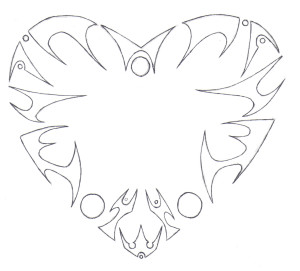 Since Valentine's Day is just around the corner, i found it appropriate to make the first weekly drawing related to the upcoming holiday.
It's a bit more simple than I was hoping to make as the first weekly drawing, but I didn't want to complicate it too much.
Valentine's Day is on the 14th (for anyone who might not have already known that), and if you haven't gotten something for that special someone, it's probably time to get to it.
There's a ton of things to do for valentine's day if you haven't already come up with an idea. A lot of people like to just purchase some chocolate or jewelry to make things simple. However, purchasing gifts for Valentine's Day doesn't really show that you've put forth much effort. Sure, it took you an hour of searching to find that perfect gift, but you could have made something yourself that was twice as awesome. What's more, is your significant other will be blown away by your efforts to provide them with a thoughtful and unique valentine gift.
But what on earth could you make on such short notice? If you're looking for some unique valentine crafts to make, you can browse Pinterest for some valentine ideas. Don't think you can re-create any of those? Well then head on over to YouTube for some step by step guides to making some interesting valentine crafts. Most of these crafts are really simple, and would show your significant other that you think they're way more important to simply buy a product that 200,000 other individuals also received on Valentine's Day.
Many individuals, such as myself, are dirt poor. Which means we often need to use a unique talent that we possess as a gift idea. I have a passion for art (in case you haven't noticed), and so if i'm in need of a gift idea, sometimes creating a unique piece of artwork is the most affordable and thoughtful gift I can provide. But many of you might not feel confident in your artwork, so what do you do? To those of you who have a knack for writing, you can write a love letter. Even if you don't believe you're a very talented writer, writing a love letter is one of the sweetest ways to let someone know you're thinking about them.
I'm not a huge fan of using quotes in valentine messages, but there are many who find love quotes to be sweet when used in the proper occasion. If you, or your significant other happens to be someone who just adores clever quotes, you can check out BrainyQuote for some of the more interesting Valentine's Day quotes out there.
Finally, if you've come to the conclusion that none of these methods could ever work for you, or you simply would much rather use the ideas of another individual as a gift, you can head on over to Amazon.com for a large selection of gifts for whomever you're looking for. I still suggest making something on your own, but as your last resort, you can still check out thoughtful items to purchase for your significant other online or at a local shop.
Hopefully this article helped provide some ideas for this Valentine's Day. If you would like to check out the rest of the artwork on this site, head on over to my main Gallery.
To contact me, send me your questions or thoughts through the Contact Page. Thanks for reading!